Miscellaneous match of sake and food at Sake no Ate Jiji Baba
Text by Haruka Muta, Photo by Kenta Baba
There is a retro classic bar street along the road of Shichijo-dori. It's just a few minutes walk from Kyoto Station, and have busy car traffic. The area is called Rido Inshokugai (Rido bar street). It has been full of bars since 1950s when it was during the Showa period (1926-89). It used to be popular with construction workers when they were building the Kyoto Tower.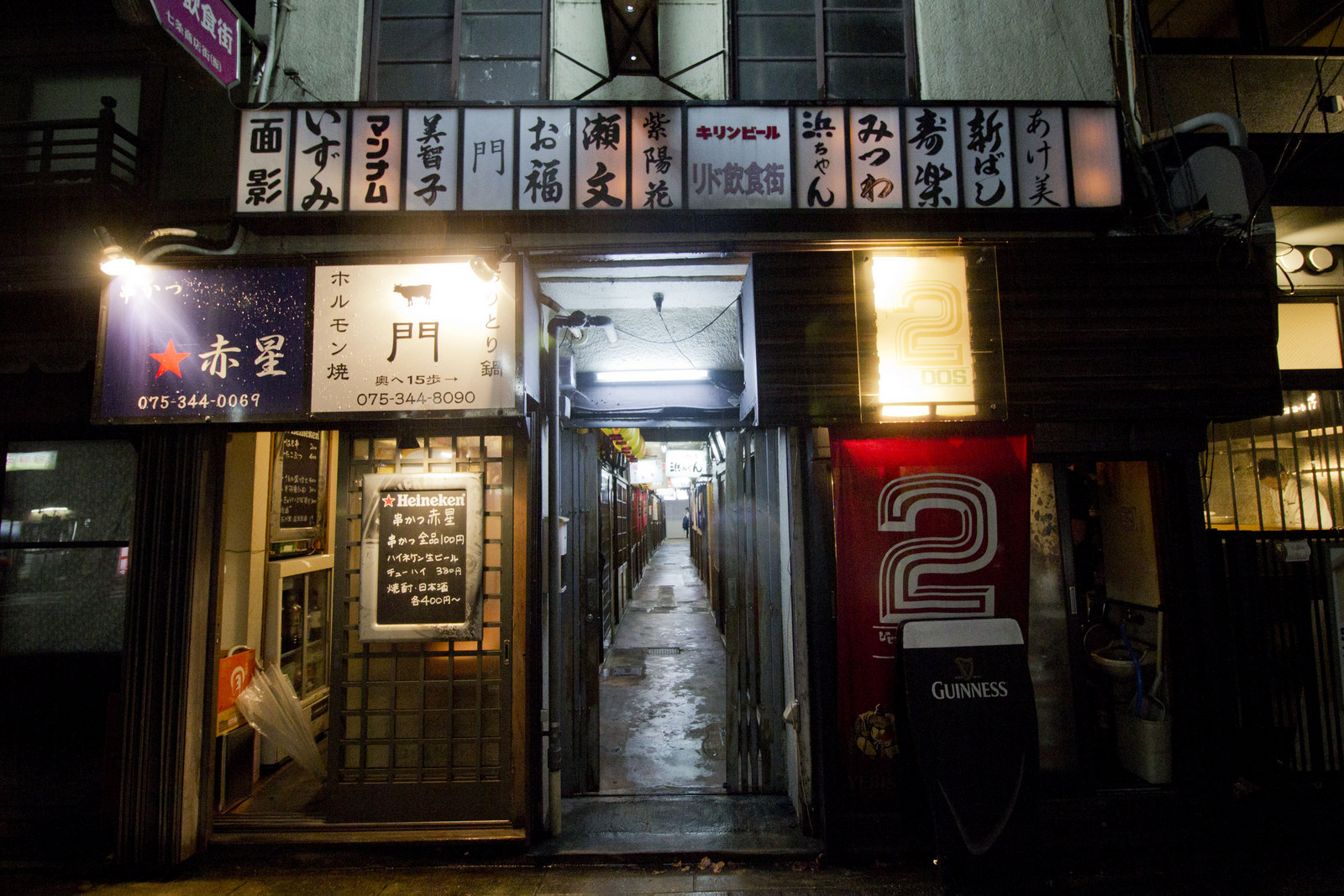 Entrance of Rido Inshokugai facing the Shichijo-dori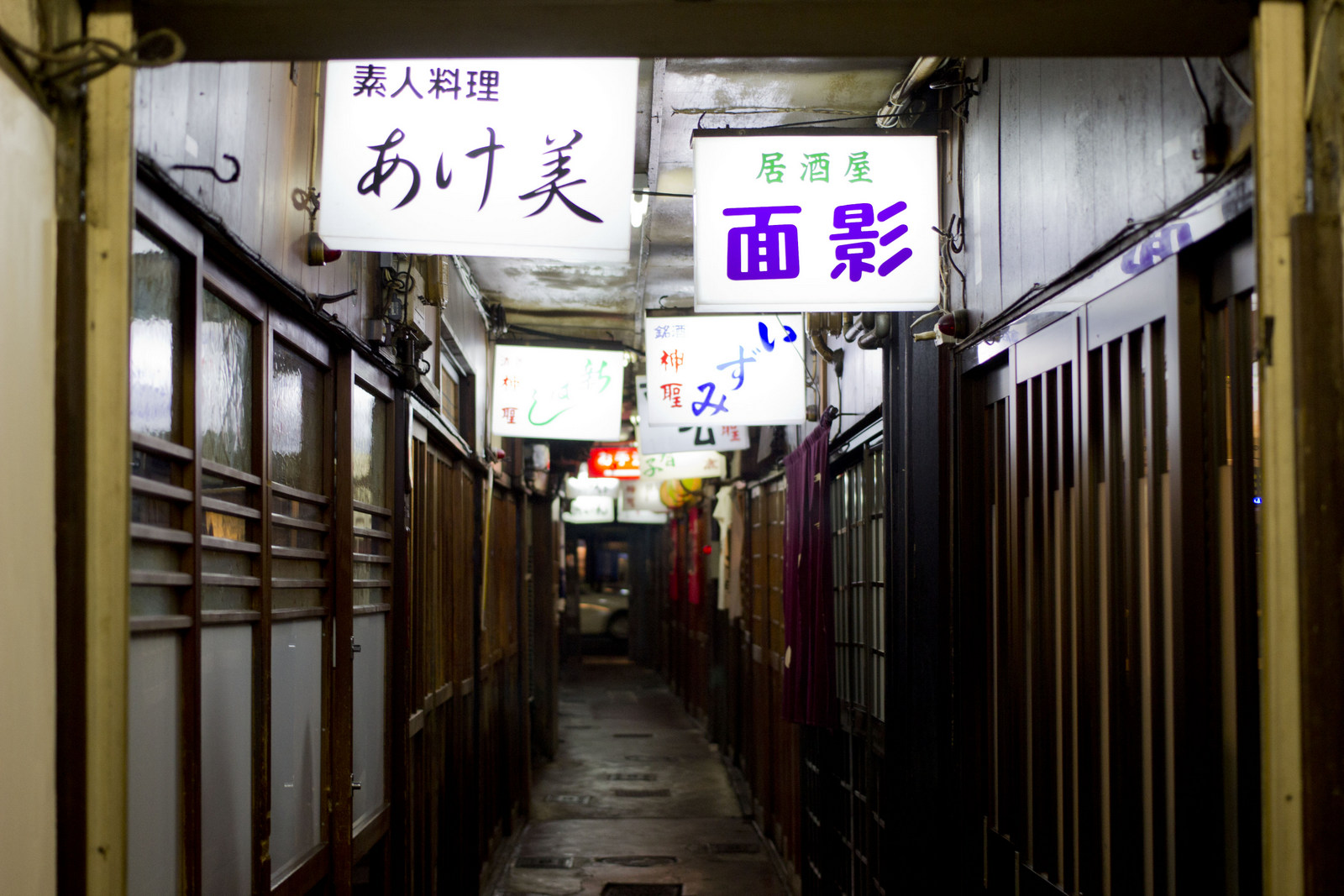 I visited Sake no Ate Jiji Baba of the many bars packed along the narrow path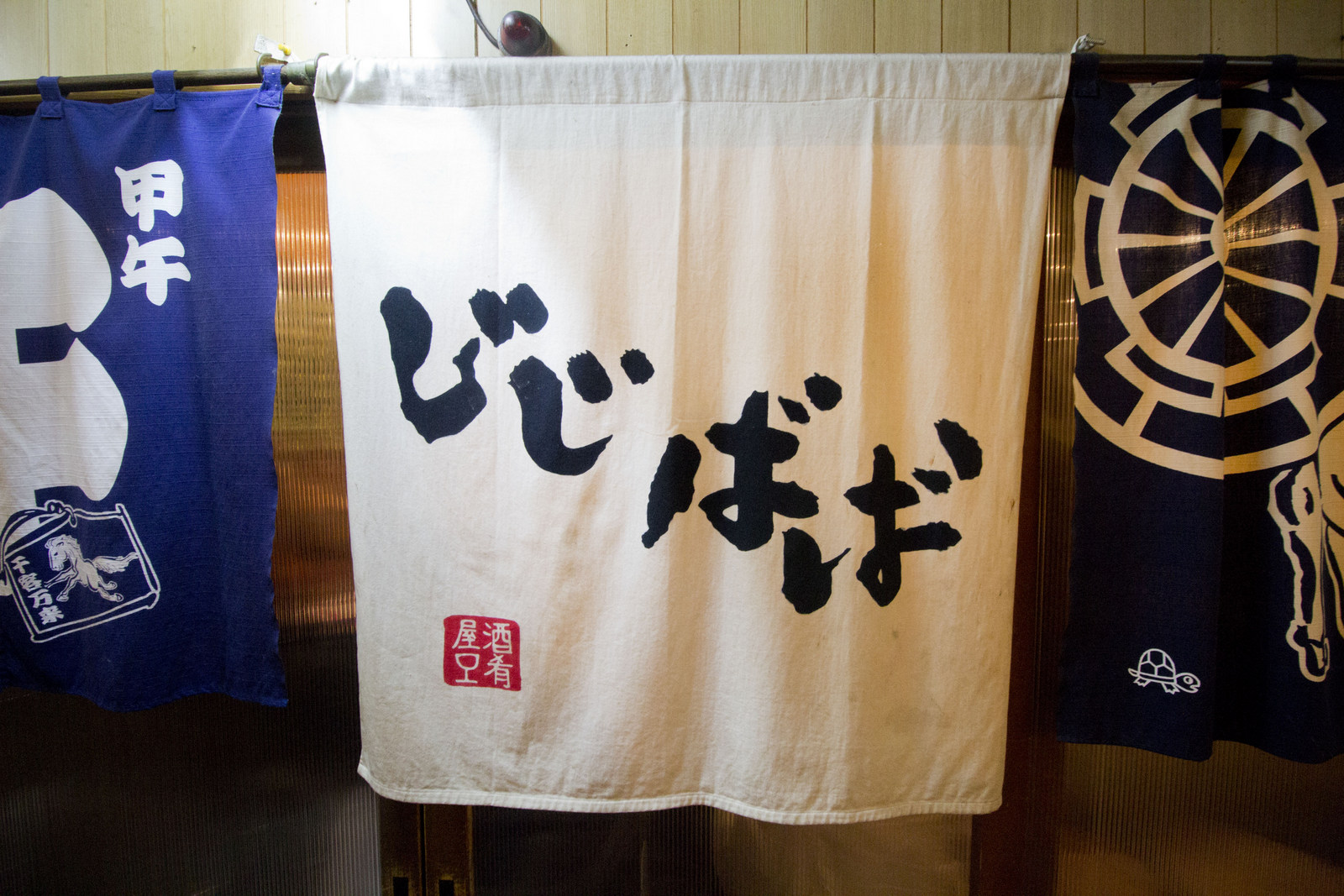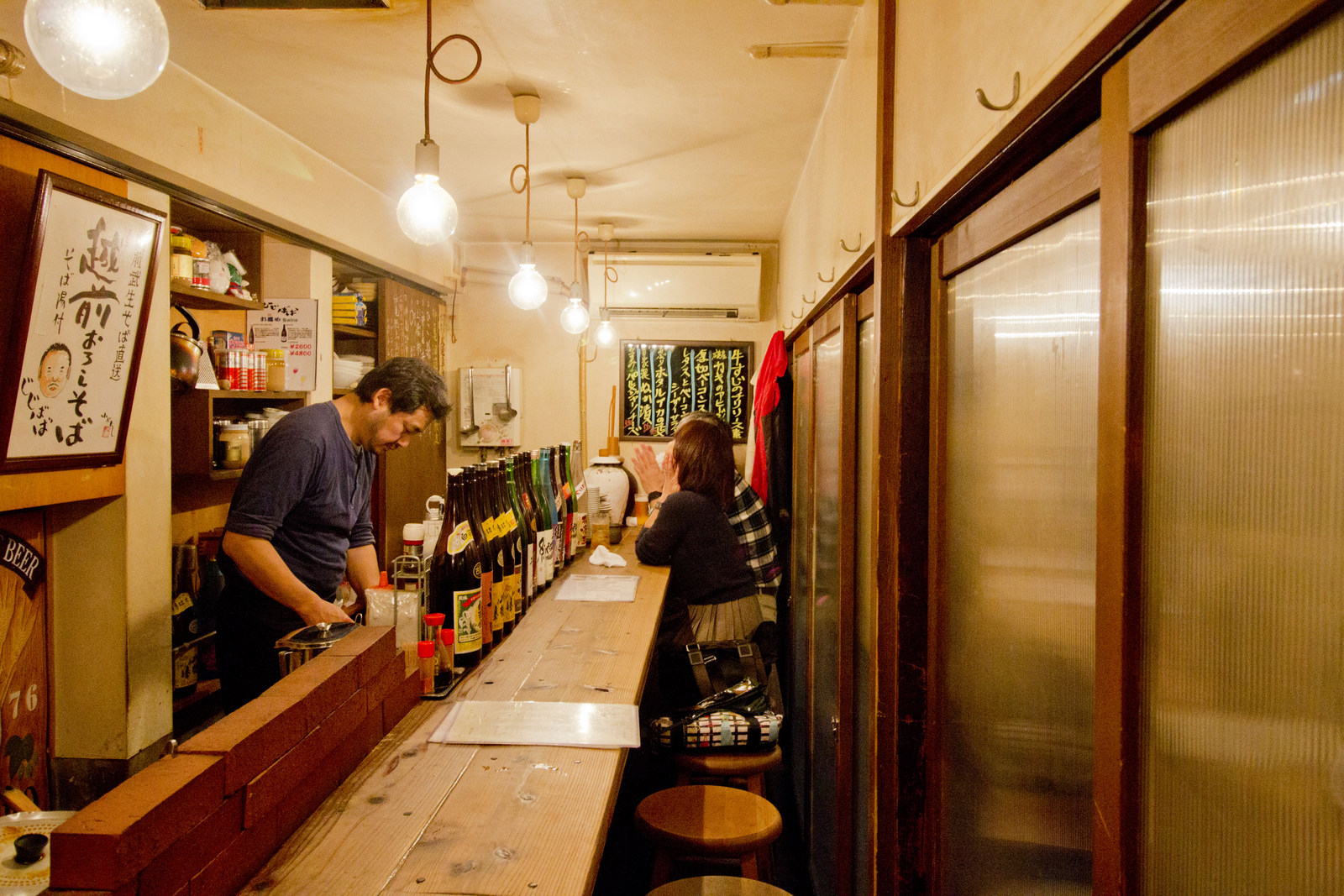 They have loooong list of drink menu.
Beer, sake and wine, of course, but also Shokoshu (Chinese wine), awamori (Okinawa shochu), sherry, grappa, Brazilian pinga, etc. The list makes me want to take the challenge.
As their bar is named Sake no Ate, meaning food to go with alchohol, they have plenty of different food menu to go with the drinks.
Prosciutto, mabo tofu, tacos, pizza and more of both western and oriental food.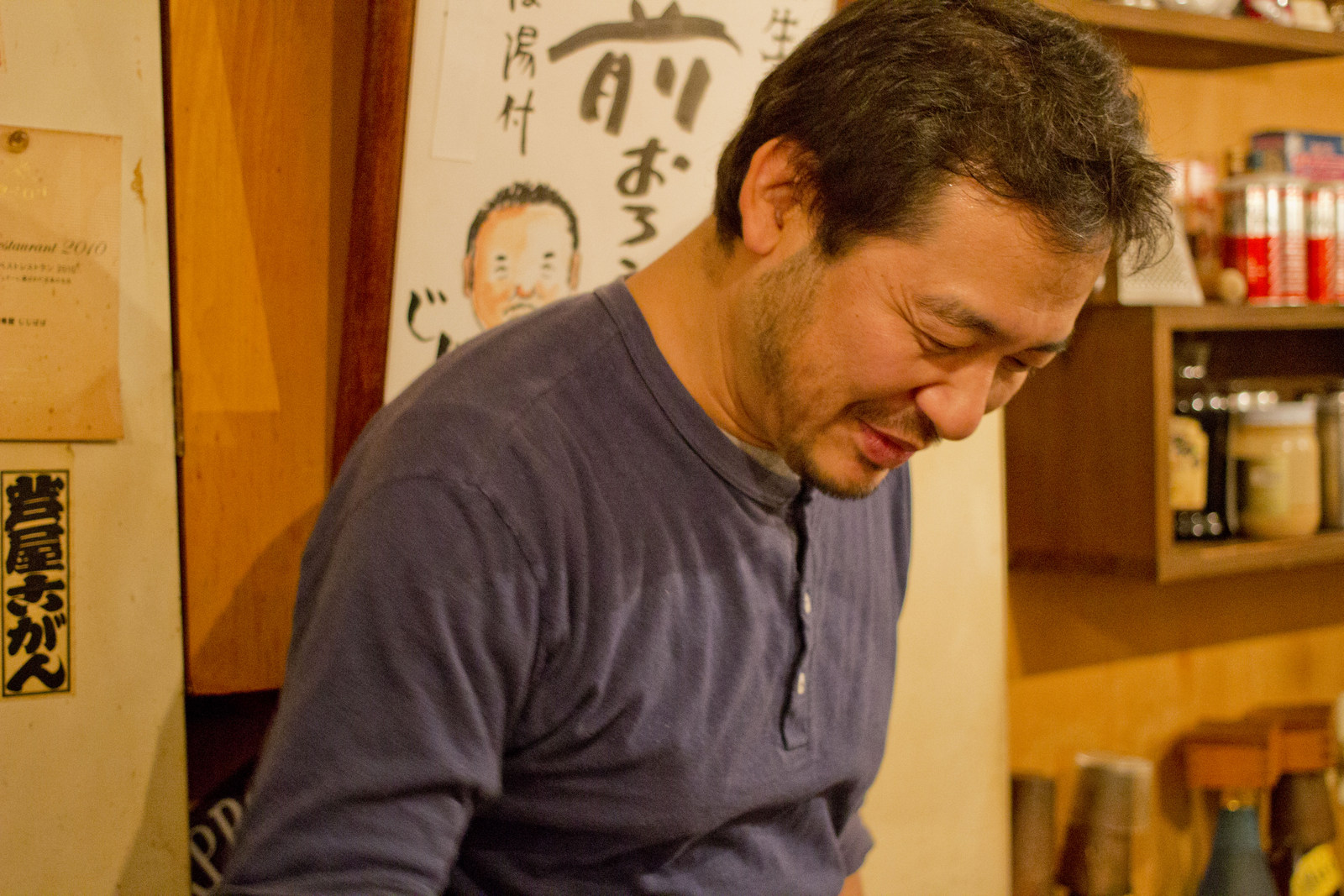 Owner Mr. Nakamura
'Some people like to determine which food goes well with certain food, but that is not fun. It's more fun to try things that doesn't seem to match. Any food actually matches with any drink. I get asked to recommend a good match sometimes, but I answer that anything would do. Since there is so much choices, why not try whatever you feel like' says Mr. Nakamura.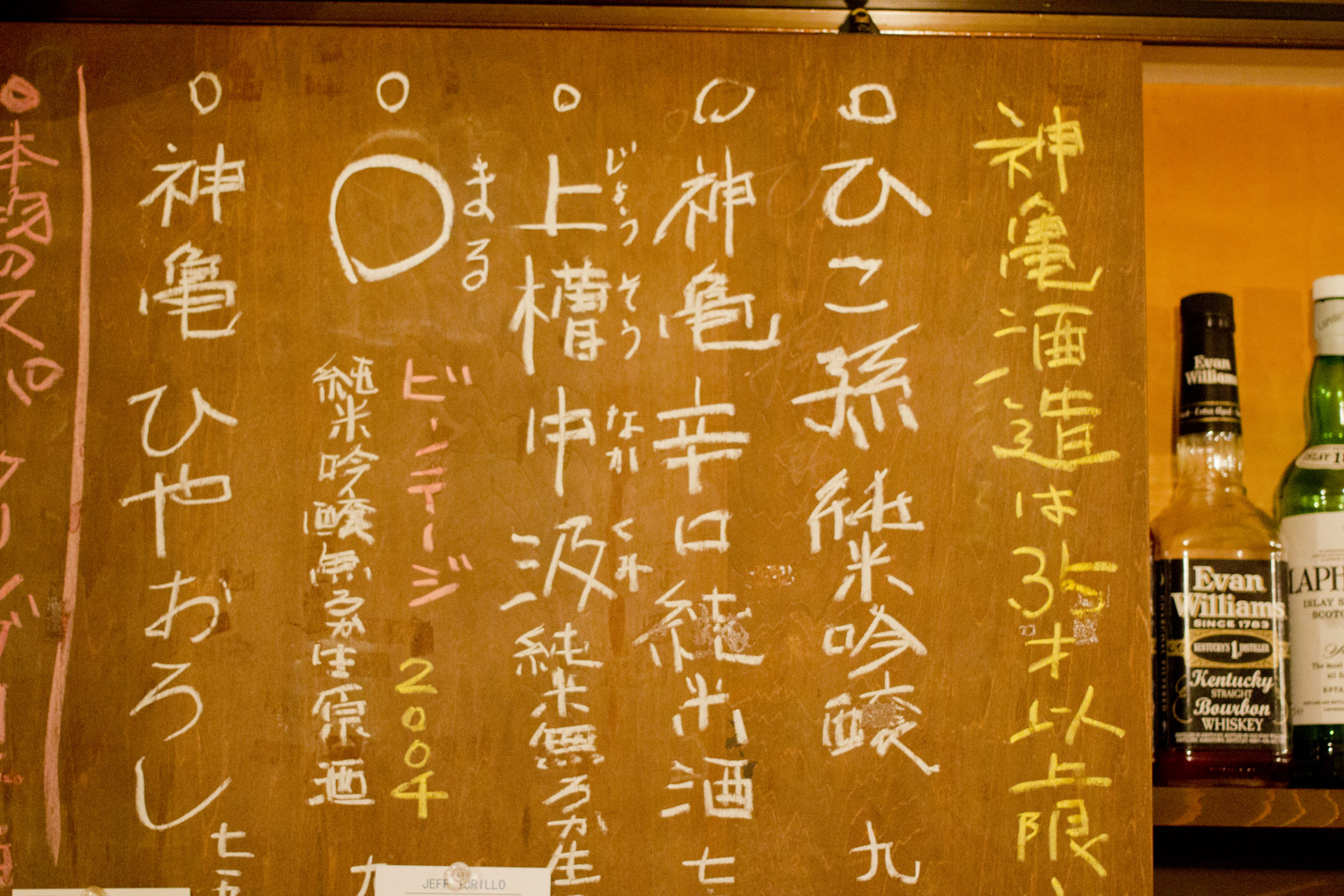 Shinkame brewery has a slogan 'Above 35 year old'
There was a line of sake behind the counter. I noticed 'above 35 year old' sign so that became my first choice of the night. A gentle sparkling Shinkame unfiltered sake with blue cheese mixed potato salad and marinated firefly squid. This two dishes was enough to empty a bottle.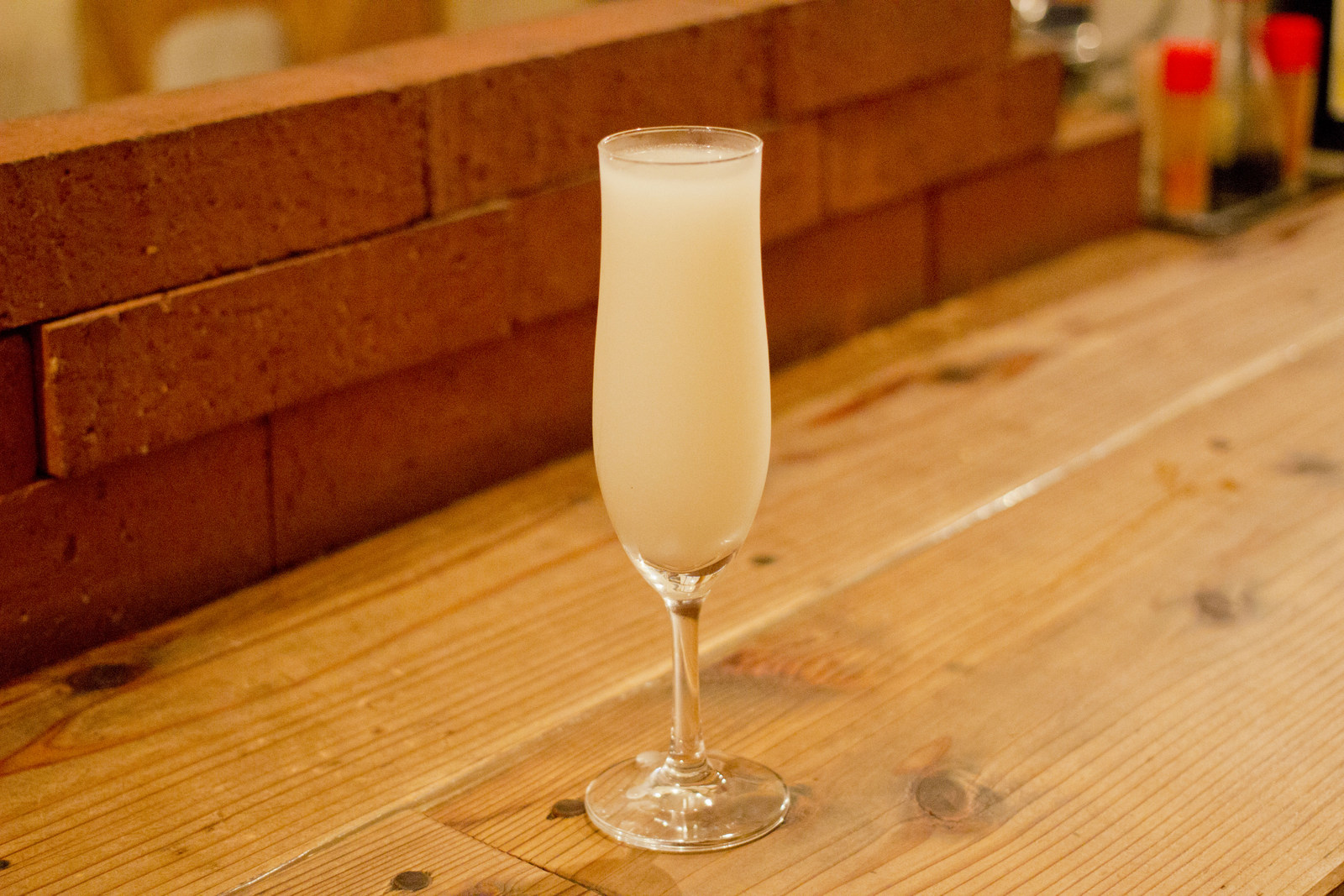 Shinkame's sake was fully poured to the top of a champagne glass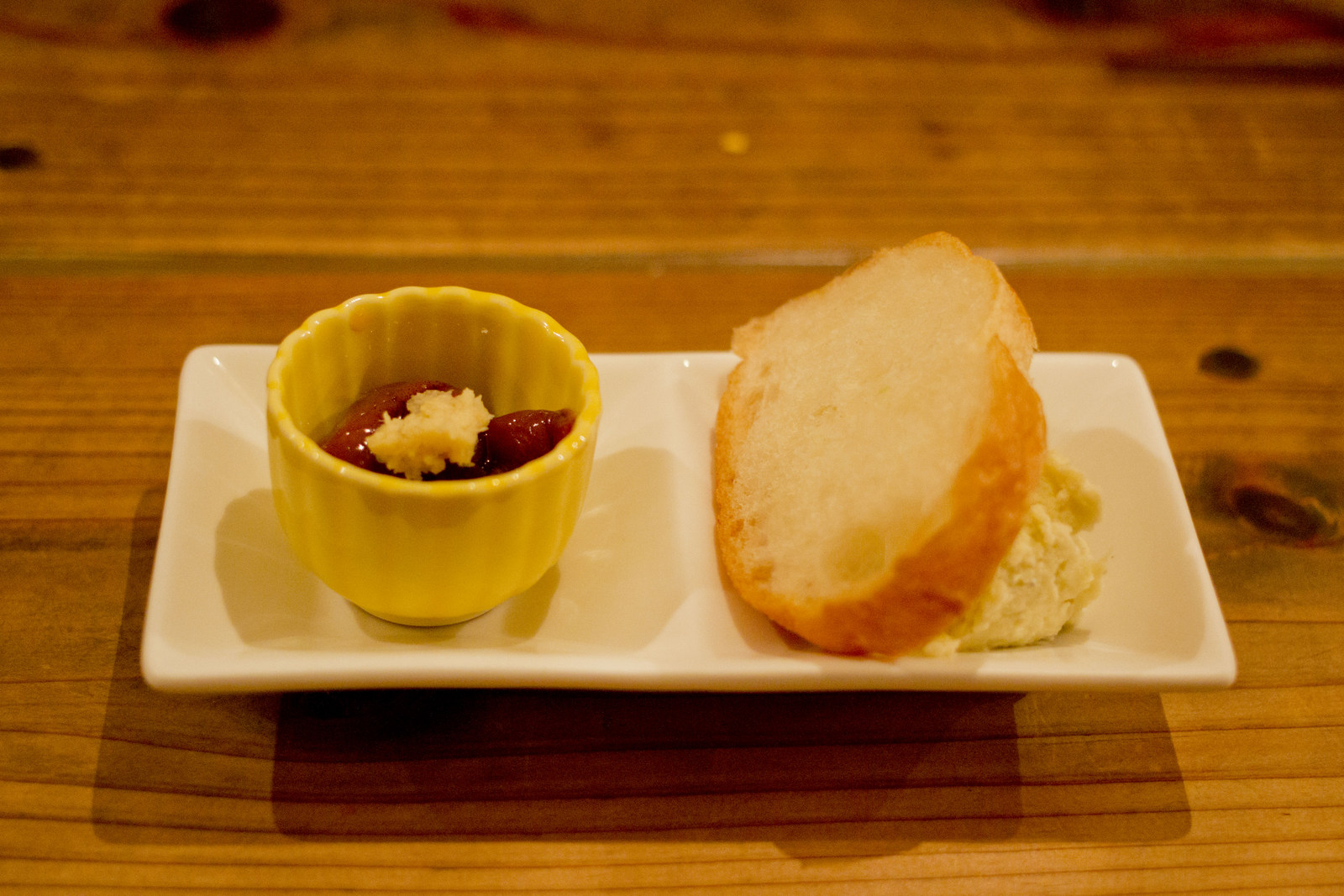 Left is marinated firefly squid, and the right is blue cheese mixed potato salad
Mr. Nakamura was preparing homemade chili oil, which he says that 'it is hot but color and flavor is more important'.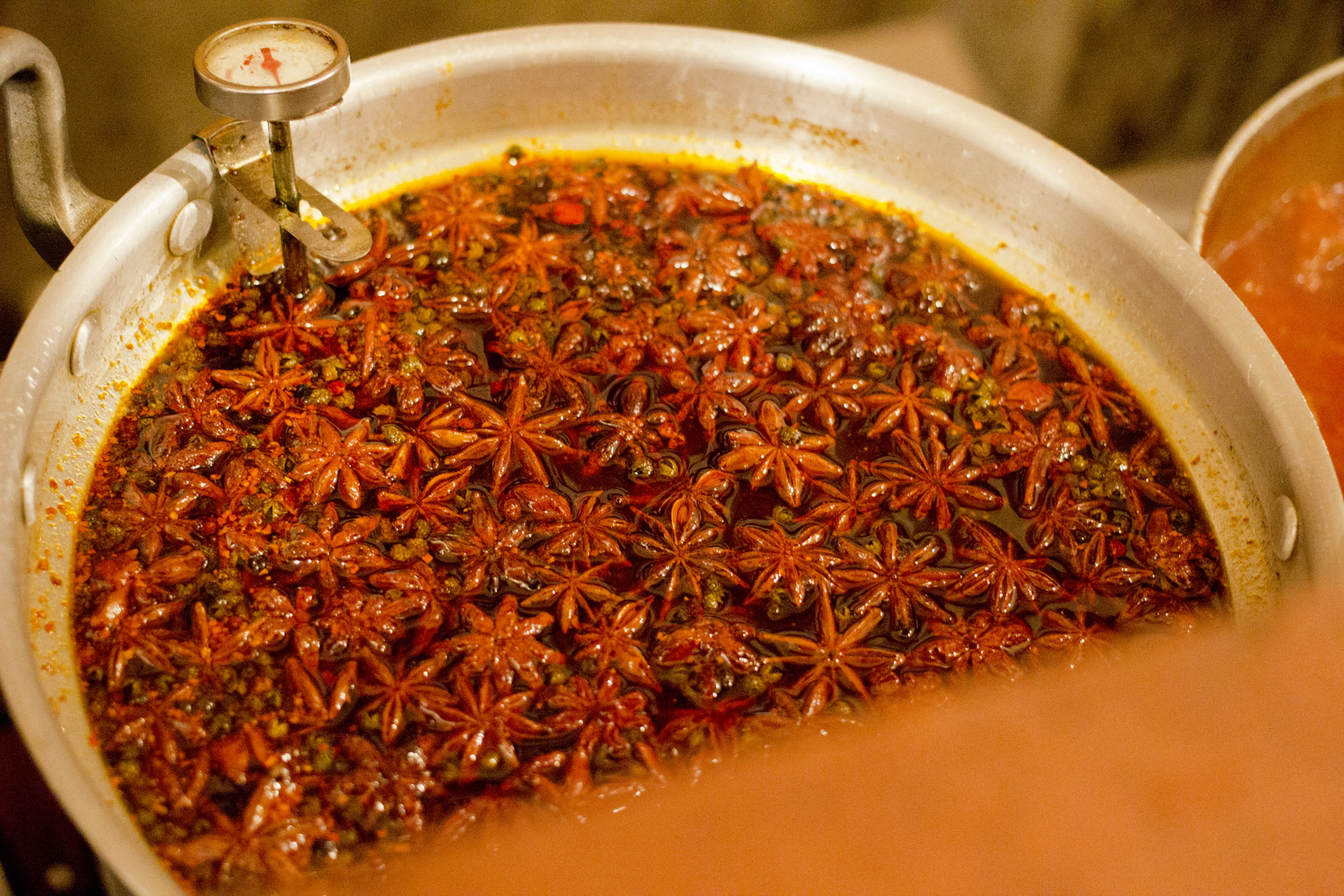 Different types of pepper and spices in canola oil
I had to try this so I ordered avocado to go with it. The bright chili oil and sweet Kyushu made soy sauce. Flavor of anise spreads in the mouth and it is nothing like any of the chili oil I had in my life.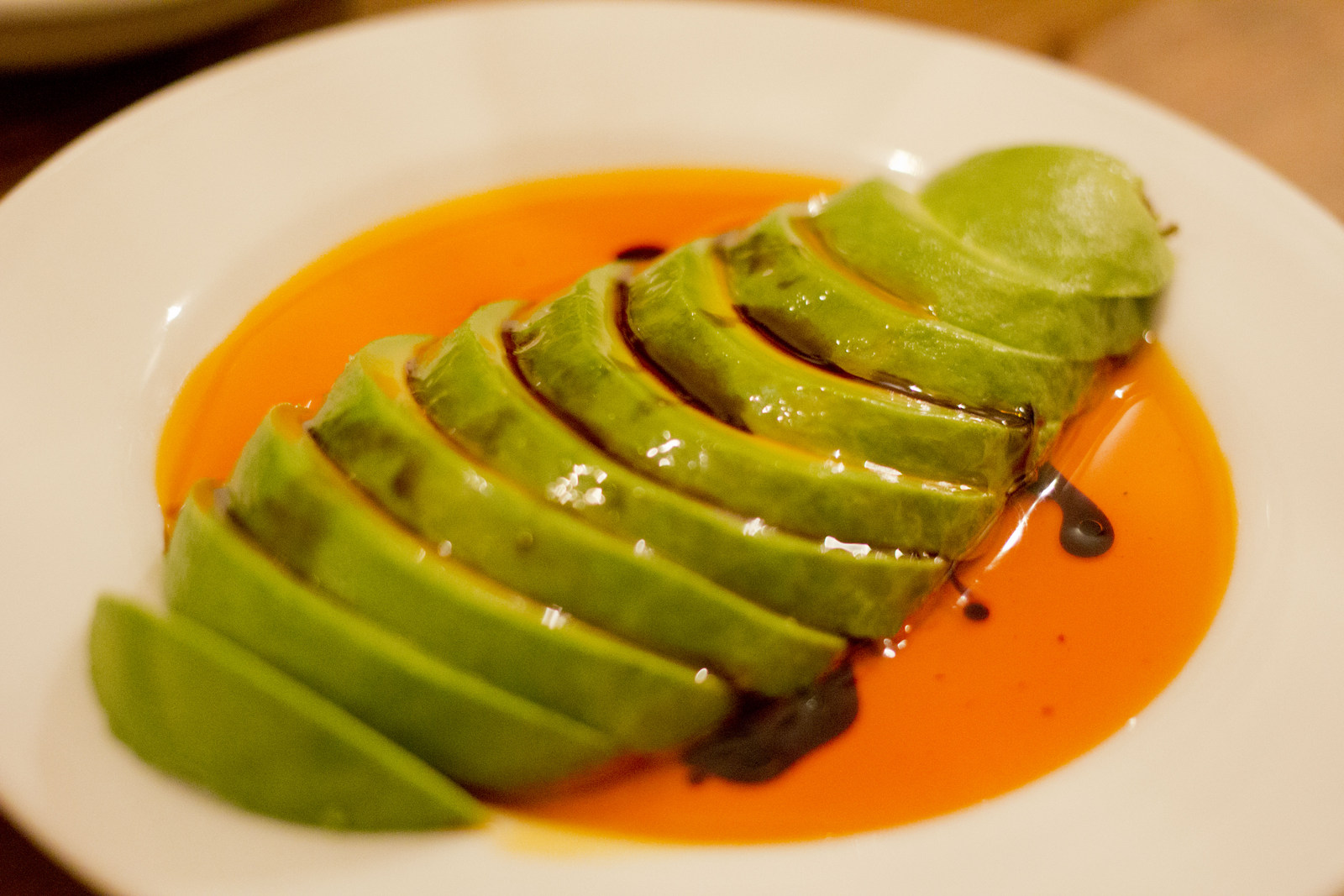 Avocado with chili oil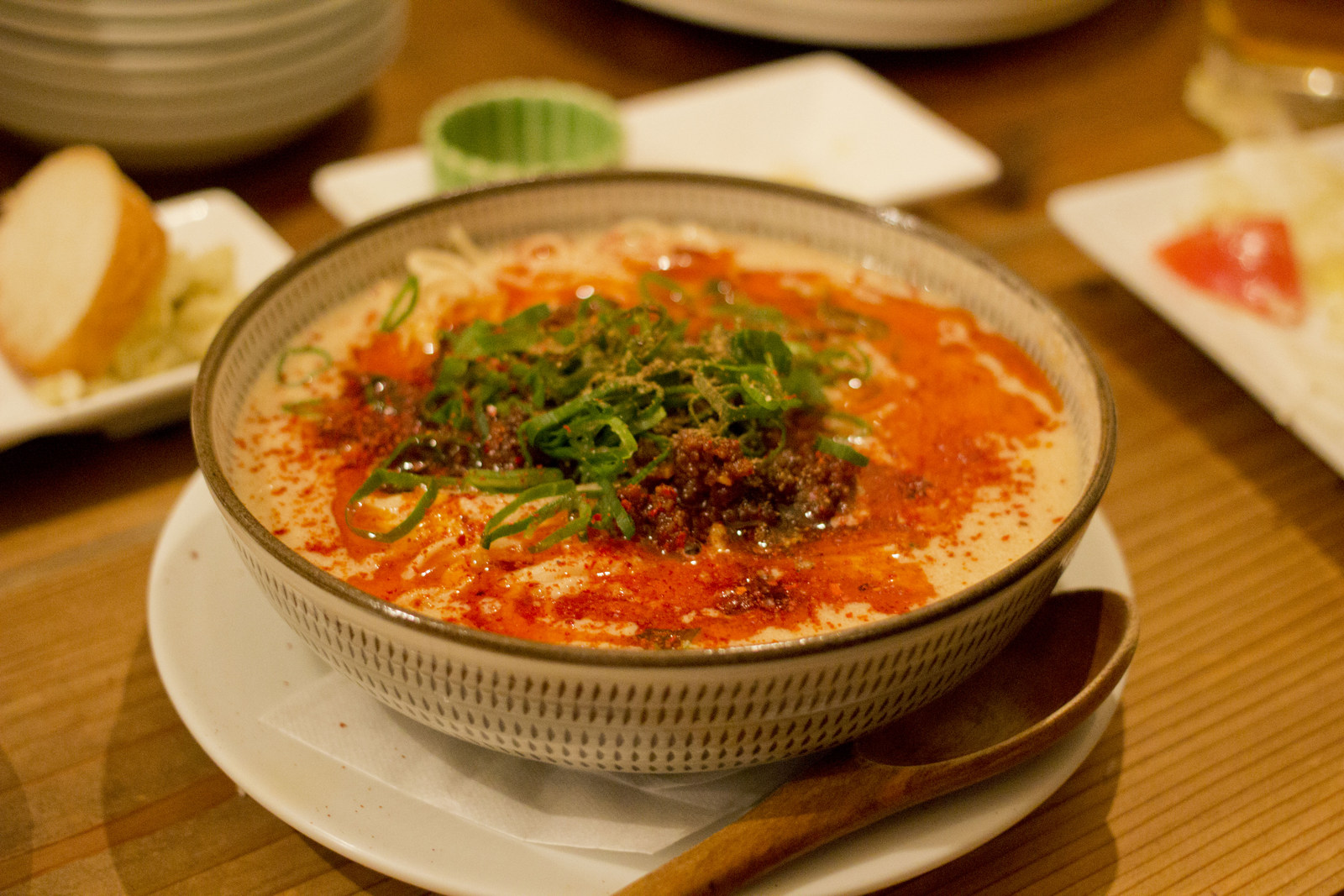 Szechuan tantan-noodle is also topped with chili oil. Tastey with volume.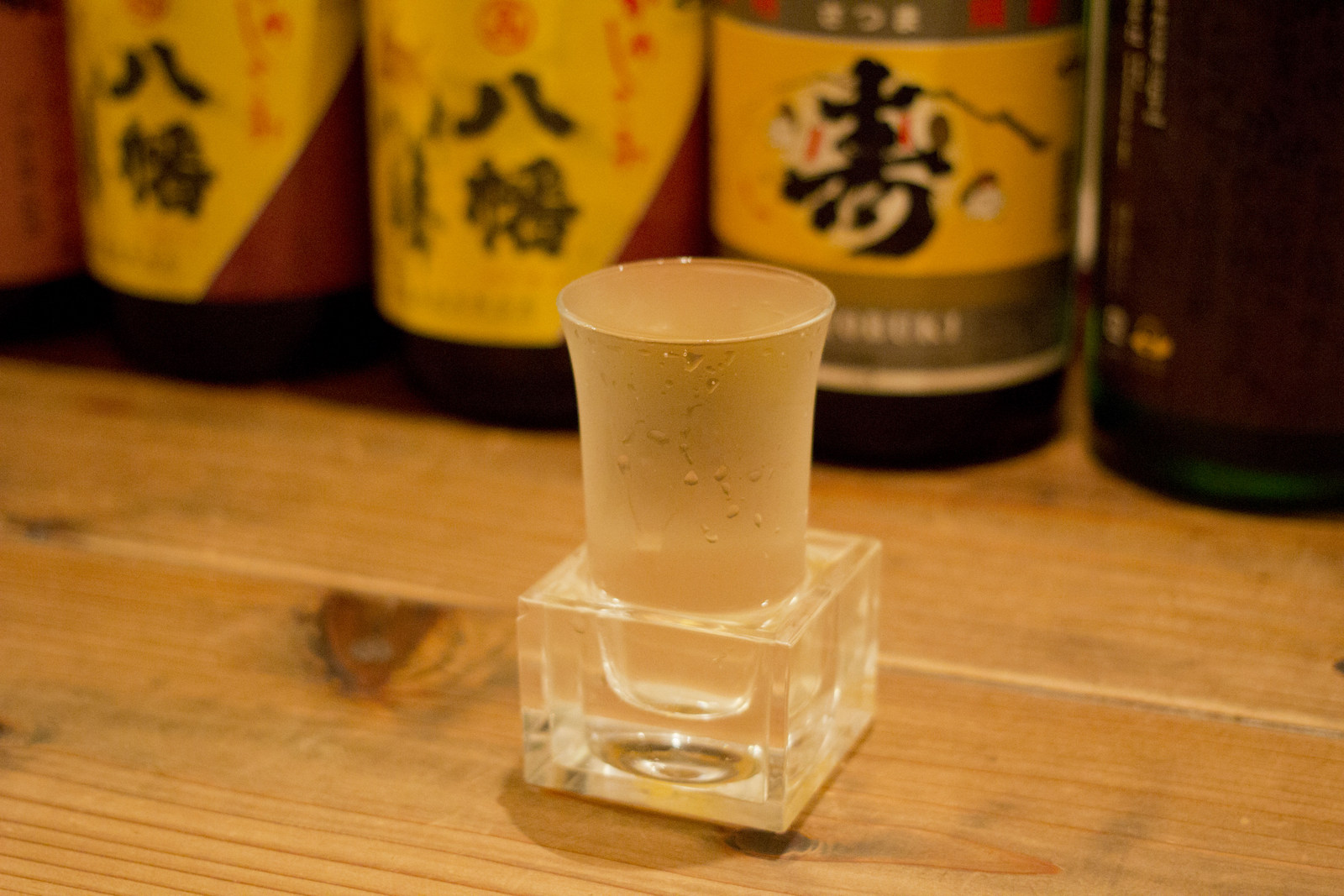 My second drink was Jousou Nakakumi's sake.
My next dish was chili beef which came out steaming hot with a melted butter on top. It is cooked in a Chinese style and the softness of beef was extravaganza.
Shokoshu (Chinese sake) matched well too.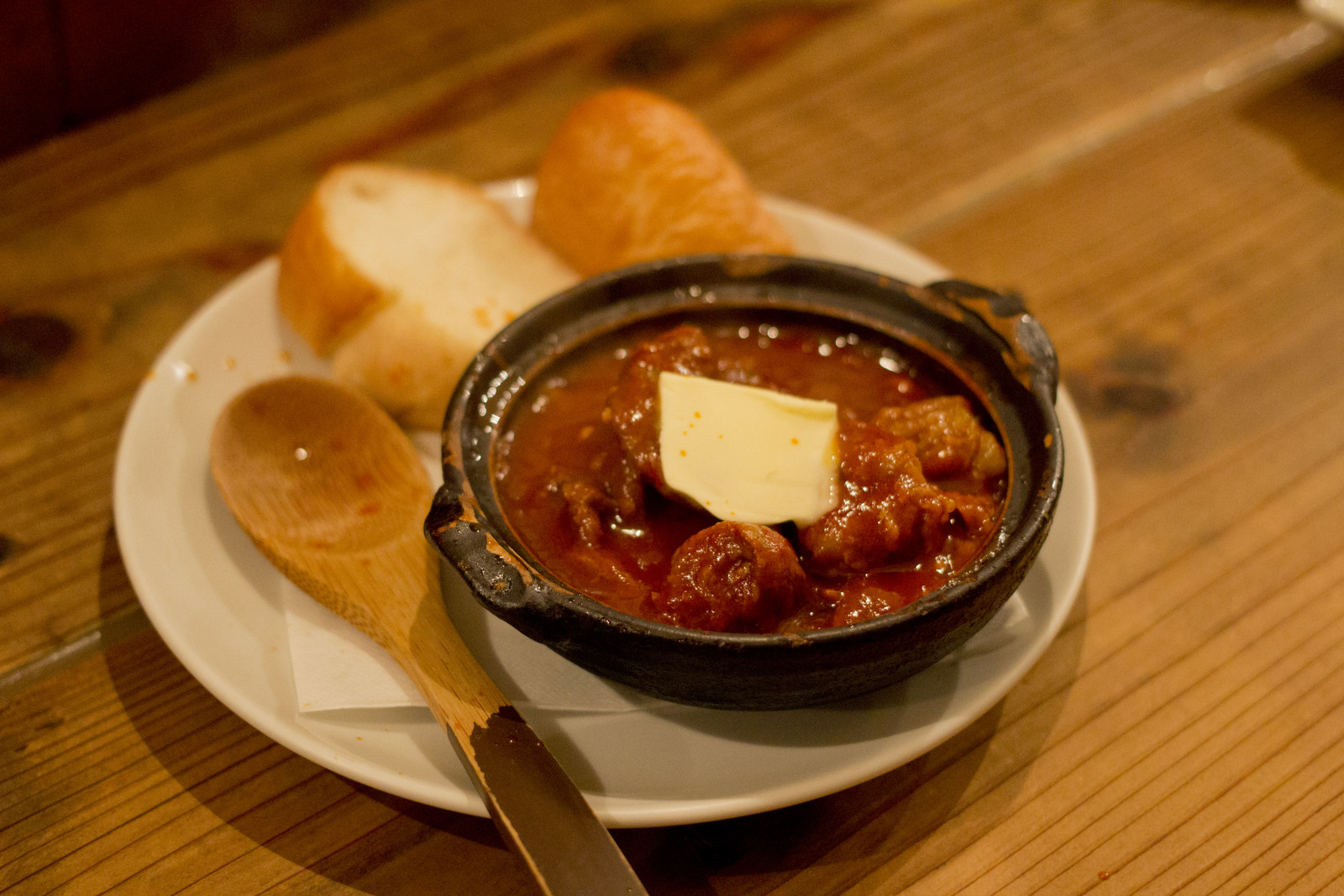 Some baguette to scoop the sauce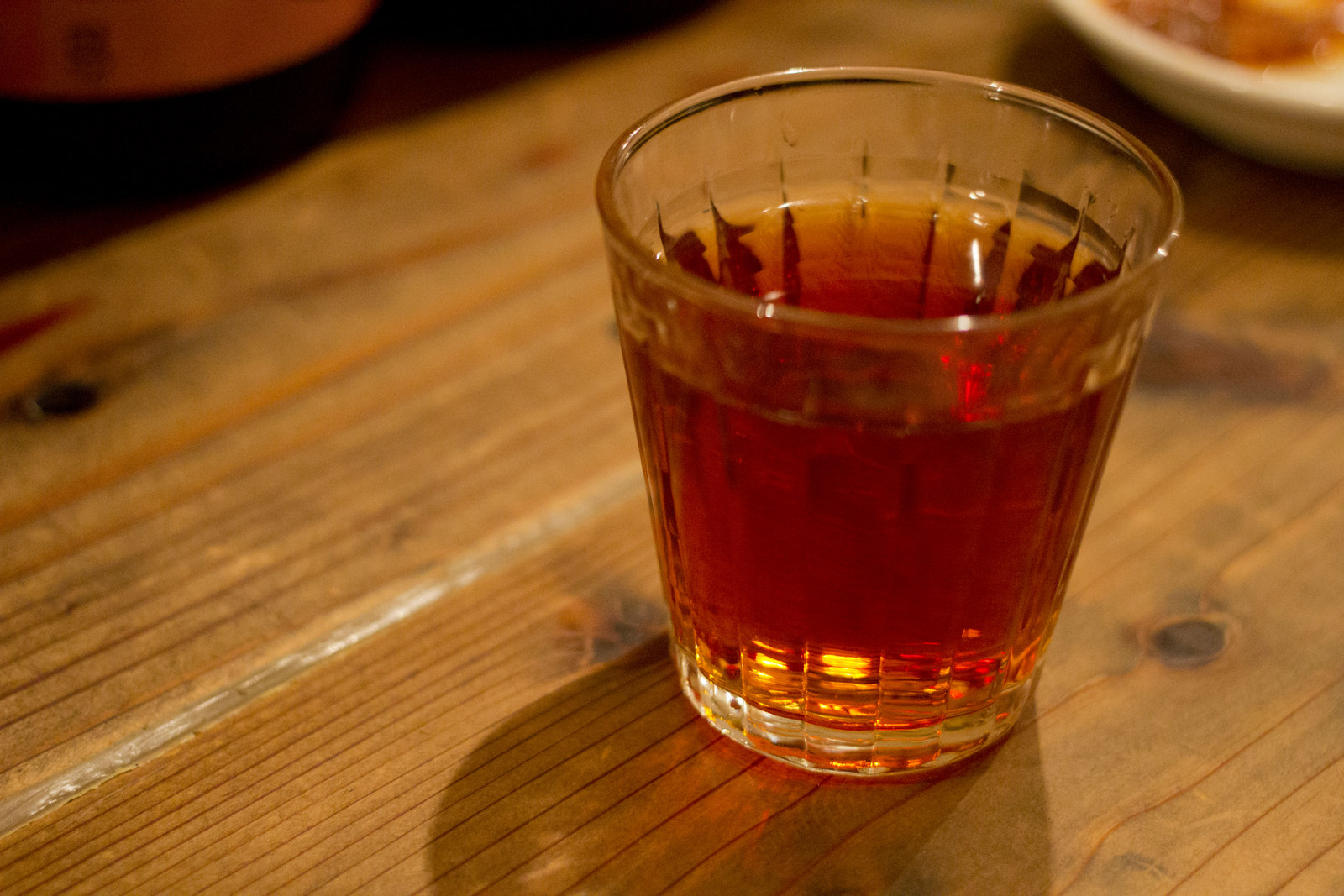 Shokoshu has been stored by topping up the jar for 10 years
The crowded bar was full of people peeking into each others drinks and food. Customers kept asking each other what they were having. It was interesting how other people ordered.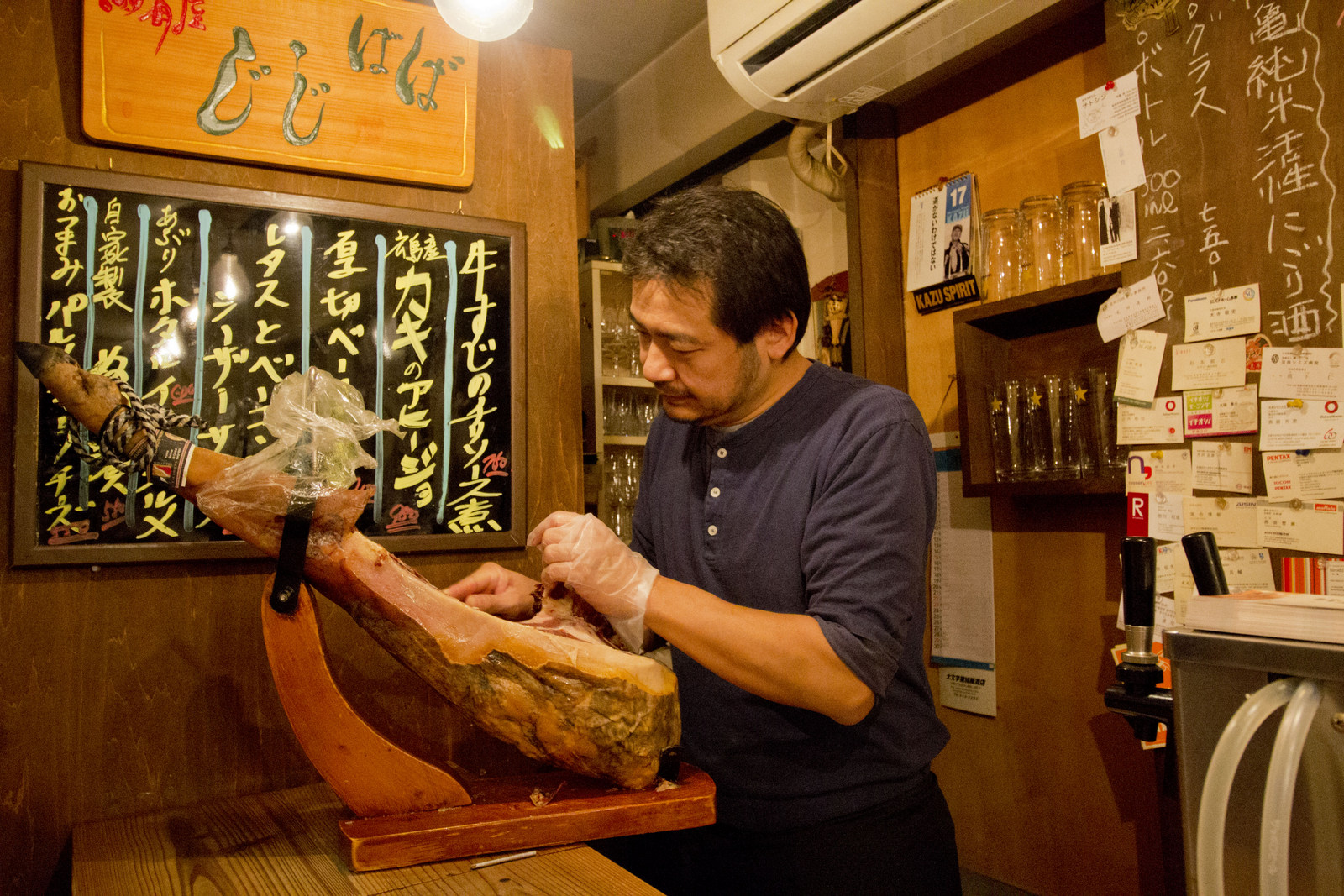 Prosciutto will be sliced freshly upon order
Sake no Ate Jiji Baba was a comfortable bar that can enjoy drink, food and conversation with other customers.
Sake no Ate Jiji Baba
Address: Rido Inshokugai, 180 Higashi Sakai-cho, Shimogyo-ku, Kyoto
Phone: +81(0)90-2010-3912
Hours:18:00-1:00 (Food L.O. 23:30)
Holiday: Sunday, public holidays